Want to add some color to your mundane, physical world? Feeling so creative that you could give Spielberg a run for his money? The answer is right there in your hand on your smartphone. If you are on Instagram, then by now, you know what I am talking about – Instagram reels. Your Instagram account is so full of them. People are making reels on all sorts of topics like food, beauty hacks, computer hacks, and so on. Sometimes you might come across some that you find very useful and want to save on your phone or your PC. It is then that you want to know how to download Instagram reels.
In this blog post, we will cover how to download Instagram reels on your phone or computer. But first things first, let us quickly cover what Instagram reels are in case you want to get a deeper understanding. 
What Are Instagram Reels?
Instagram launched reels in 2020. Their blog post announced that they are the new way to create and discover fun videos one can share with friends. In the words of Instagram itself, 'Reels are short, entertaining videos.' One can record a 90-second video with music, effects, audio, or new creative tools. Having had fun creating the reels, one can also share them with followers on Instagram. You can share reels through Instagram Stories, Explore Feed, and the New Reels Feed on your account.
With the launch of this creative tool, it seemed the whole world got excited. Almost everyone started exploring all the creative options available. Even now, people have so much fun while creating the reels. They play around with speed, using slow motions to give a dramatic effect. They use fun audio pieces like famous movie dialogues or popular tracks. Using augmented reality effects makes the reels more amusing. In short, reels help you bring out the creative genius inside you and showcase it to the world.
Why Download Instagram Reels?
People save Instagram reels for different reasons:
Share it on another platform – You don't want to limit yourself to Instagram only. Despite the name, a short video does take a lot of effort. So, you want to put it up across Youtube, Facebook, and Tiktok. For that, you want to download the Instagram reel and share it on other platforms.

Save for later – You want to keep it to use it later. Let's say you found a nice DIY facial reel during your coffee break at work, and you want to save it to try at home (unless you work in a beauty parlor).  
So it is important to know process of downloading Instagram reels.
How To Download Instagram Reels on Your Android Smartphone?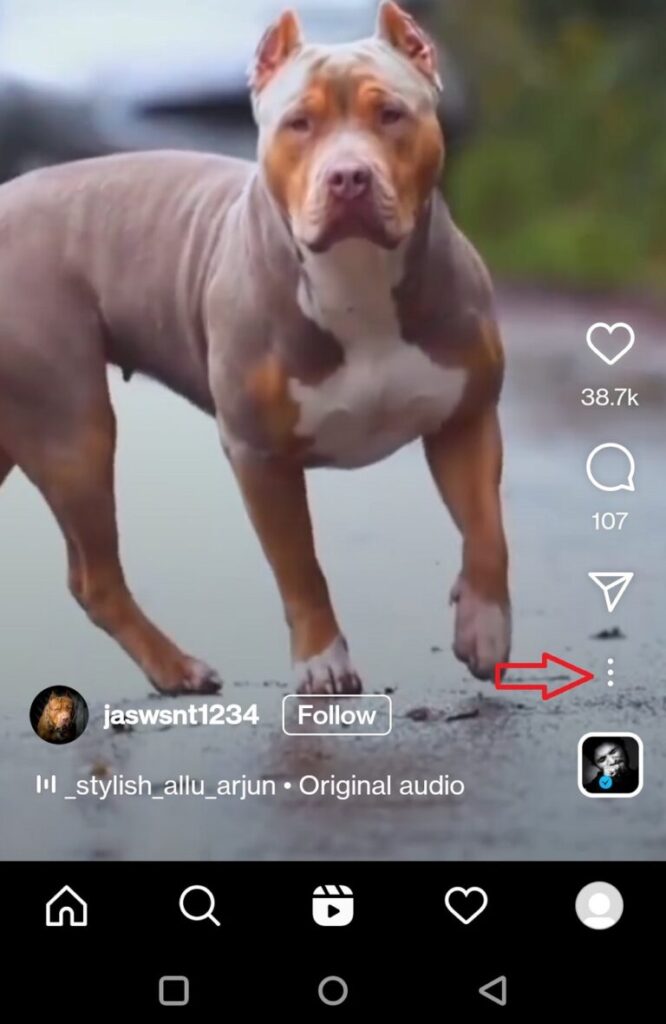 Instagram doesn't allow you to download reels, but you can only save reels. This is because such content is the intellectual property of others. Downloading can lead to content theft. Content theft is when any other user puts some content on a social media platform without permission or credit to the original creator. But you can still download the video for your personal use by following these steps:
Download a third-party app such as Video Downloader for Instagram or any other app that allows you to download Instagram videos.

Install the app and open it.

Give it access to your photos, media, and files on your device.

Go back to Instagram or Instagram Lite.

Go to the reel you want to download.

Tap the three dots icon and tap on Copy Link. 

Now go back to the app you downloaded a little while ago – the Instagram video downloader app.

You will see that the link to the reel you selected from Instagram, is already pasted here by the app. If not, paste it manually.

Hit download.

Go to your phone's Gallery. Your newest download is right there for further use.
How To Download Instagram Reels on iPhone
The process of downloading Instagram reels is almost the same on iPhone as well. However, the video downloader app could be different. Here's how to download Instagram reels on iPhone.
Visit AppStore. Here you will find many apps that can help you accomplish your mission. We are going with the app InSaver for Instagram.

First, open the app and give it permission to access images and media on your iPhone.

Now open Instagram and select the reel you want to download.

Tap the three dots icon and tap on Copy Link. 

Go to your Instagram video downloading app (InSaver in our case). You will find the link of the selected reel is pasted there automatically.

Tap Watch It – Options – Share – Save Video. This will save the video in your iPhone Photos app.
Downloading Instagram Reels using Screen Recording
For those not interested in using any third-party app, you can use the screen recording feature of your smartphone to capture the reels of your choice. Let us see how you can do that using an iPhone or an Android phone.
Screen Recording on an Android Phone
Android phones these days come with many exciting features. One such is the screen recording app. Using this app, we can record whatever is running on the screen. If you don't have one on your phone, you can download a third-party app with screen recording functionalities.
Once you find your screen recorder, do the following steps:
Tap the red button to start recording.

Go to Instagram and open the reel you wish to download.

Let the screen recorder do the rest. Once you are done recording, you can stop the screen recorder by clicking the stop button or the red square button.

Go to the Gallery of your phone to check the video.
Screen Recording on iPhone:
To download Instagram reels using screen recording on iPhone, you must have this feature in your Control Center. If not, go to Settings > Control Center > Customize Controls and add Screen Recording by tapping the green Add icon. When you scroll up, you will find that Screen Recording has been added to the included controls.
Having figured that out, now you can capture what you may. So here are the steps to download Instagram reels using a screen recorder on iPhone:
Open Control Center.

If you want to record your voice along with screen recording, touch and hold the Screen Recording button to turn on the microphone. And then tap the Microphone button.

Start recording by tapping the Screen Recording button.

Wait for the three-second countdown.

When the countdown ends, the screen recording starts.

Close Control Center to resume the reel.

To stop recording, go to the Control Center and tap the Screen Recording button again.

Your screen recording will be automatically saved to Photos.

Just tap the notification to view it.

If you want, you can edit what you recorded by tapping the Edit button in the top-right corner of the screen. You can also share it by tapping the Share button in the bottom-left corner.
Isn't that super easy?
Download Instagram Reels on Your Windows PC
What if you want to share an Instagram reel from the chat application installed on your laptop or desktop? For that, you need to download the reels on your PC. This is the way you can do so:
Open Instagram and select the reel you want to download to your PC.

Click the three dots icon and click on Copy Link. 

In your browser, type Instagram video downloader. You will get plenty of free online tools that do your job perfectly. These tools also help in downloading Instagram stories, photos, etc.

Next, open one of these tools in another browser or another tab in the same browser.

Paste the Instagram reel link and hit download.

Check the Downloads folder on your computer. Your Instagram video is waiting for you for further action.
Some of the best tools available online are:
SaveInsta

Fastdl

Instadp

InDownloader

IGDownloader

Toolzu

SnapInsta

InstaVideoSave
Some of them, like InDownloader, give you the option to download Instagram Story, Photo, Video, etc. along with Reels.
Conclusive Insights
Whether it is some DIY, inspiration, or for future reference, reels have made their way into our life and made it very easy. We are always super busy chasing various goals and juggling multiple roles. These short videos are less time-consuming, and give us instant knowledge, entertainment, or both. Sometimes we come across reels that we need for repeated viewing. If we know how to download Instagram reels, it can help us download and save videos for as long as we want.